Keep an eye on this page for interesting news / updates about Breda International Airport
Social Sofa project op Spottersplek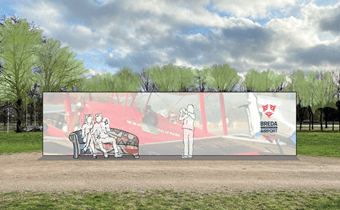 Now that the sun is shining and more is slowly possible again due to gradual lifting of covid restrictions, Halderberge is slowly starting up again. People go out for cycling and walking. One of the places in Halderberge where you can relax is the spotter's place at Breda International Airport.
By initiative of Breda International Airport, this location will be developed in the coming months into a wonderful meeting place for spotters, cyclists, walkers and motorcyclists. Thanks to a contribution from the Economic Dome Halderberge and Visit Halderberge, a meeting place with social sofas and a social wall is being created here.
Build together
This community art project is designed in a competition with artisits of Halderberge and the surrounding area. The Social Sofa is a project to get to know the neighborhood and its surroundings and to improve the quality of life by covering sofas together with mosaic stones. There are banks all over the world based on this Tilburg idea.
CALL: designers and creatives wanted!
There is no better time to start this initiative. The corona crisis is coming to an end and we long for contact and togetherness. Halderberg artists are asked to make designs for the wall, sofa and stools. Are you creative and do you want to see your design immortalized at the spotter's spot? 
More information
Take a look at the Facebook page of Social Sofa Halderberge for more information about the designs, submitting designs and to register as a volunteer for the mosaics.
For more information about the Spottersplaats Breda International Airport project, please contact Sheldon:
Mail: sse@breda-airport.eu
Tel: 06-40059184
Breda International Airport vaccination location in West Brabant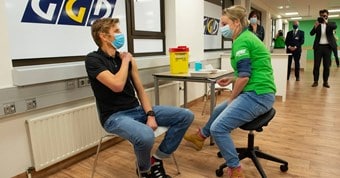 Photo: BN-de stem
The GGD West-Brabant set up four extra locations in April where people can get a vaccine against the corona virus. The new locations are Breepark Breda, Roosendaal, Almkerk and Breda International Airport in Bosschenhoofd. This brings the total number of vaccination sites in the region to six.
At the airport in Bosschenhoofd, 2 hangars have been prepared as a puncture location. The location at Breda International Airport will be operational at the beginning of May.
The breepark location has been in use for several weeks.
The vaccination site is on the south side of the airport.
Entrance is at the terminal on the Bredasebaan. There is ample space for parking, the location is also accessible by bicycle.
Breda International Airport, together with Breda Aviation, restaurant Bargo and Forum Group, are extremely proud to be able to contribute to the fight against corona in this way.